The sports industry is undergoing rapid change, putting pressure on organizations to keep pace.
To meet their needs for supporting athletes, coaches, and sponsors, many organizations try to use several off-the-shelf business
solutions.
This approach can create severe problems for athletes and organizations.
Working with multiple vendors and external parties can cause fragmented processes and hinder the effectiveness of their offerings.
We often hear questions from potential customers that can lead to the flawed approach of working with multiple offerings like:
"We are looking for an LMS for our coaches"
"We need an LMS for Athletes"
"We need a communication tool"
"We need a database for our athletes"
"What type of registration system would you recommend?"
"We use Salesforce to keep track of our athletes"
These business solutions happily submit to an organization's "Request For Proposal" and appear to fulfill all the features needed to solve their problems.
By the time these solutions are paid for and onboarded, a team is already trying to solve the next problem on the never-ending list.
The result is negative impacts on the organization's overall experience and ultimately leads to unused software and a lack of insight into the problems they aimed to solve.
Most importantly, it has adverse downstream effects on the experience within an organization.
Nobody uses the solution. Nobody maintains the process. Worst of all, they don't have any insight into the problem they thought they solved by paying for the offering.
This perpetuates the fragmentation of their network and looks something like this: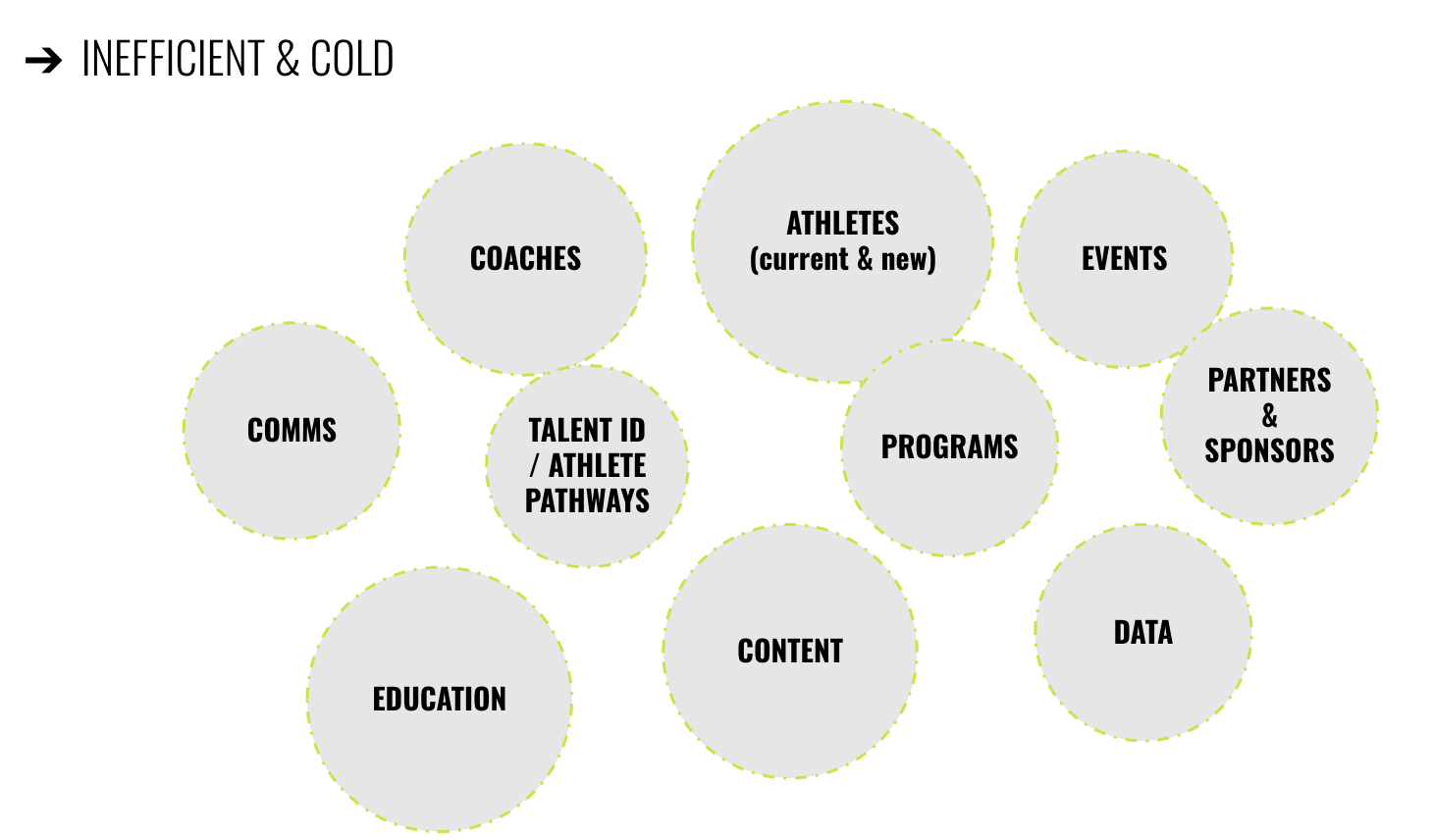 The result is an inefficient and cold ecosystem that creates more work for a team to build the relationships necessary to make an organization successful.
Reduce and Integrate
The key to success is not the number of solutions a company has, but how well these tools align with the organization's goals.
To maximize their value, these solutions should be tailored to an organization's talent pipeline and pathways. Rather than relying on multiple disparate solutions, consider reducing and integrating them to better meet needs.
By examining your current talent pipeline and pathway for your athletes, you can identify the real problems to solve and bring your network closer together.
Start by asking questions like:
"Where do athletes prefer to consume content? How might we adapt to more closely resemble that?"
"When are the most important times to educate athletes and coaches?"
"What is important to show athletes to get them to register for my program?"
"How can I provide more value to athletes and coaches based on the actions they are currently taking?"
"Who needs to access our content? Who needs to access our athletes? Who needs to access our coaches?
"What valuable information do I need to collect from athletes and coaches to ensure success for my organization?"
These questions will help you focus on improving the experience your audience has with your solutions and processes.
Put Your Athlete's Experience First
Off-the-shelf business solutions are often designed for desktop use by employees, not for athletes who prioritize mobile experiences.
Imposing a process that doesn't fit with how athletes prefer to interact leads to low engagement, causing extra work for the organization and coaches to get athletes involved, eventually leading to failure.
Athletes are always looking to improve, stay informed about their peers/coaches, and showcase their skills. By offering solutions that align with their ideal experience, you can create a ripple effect throughout your network.
Focus on building and integrating solutions around your athletes, leveraging their excitement to drive growth for your organization.