There are certain moments in sports that reach fans and society differently. Where were you when Jackie Robinson broke the color barrier? What were you doing when Billie Jean King beat Bobby Riggs in the "Battle of the Sexes" tennis match?
Most readers of this piece are probably too young to personally remember those events (myself included), but keep your eyes and ears peeled for events that will change the game as we know it forever.
Last Saturday, Sarah Fuller made history by kicking off the second half of Vanderbilt's football game against the University of Missouri with a squib kick. She was the first woman to play in a Power Five conference men's football game in the history of college athletics.
Fuller was already a student athlete at Vanderbilt University, playing goalie for the women's soccer team. It took an extraordinary set of circumstances for this opportunity to arise, as many Vanderbilt Commodores special teams players were in quarantine due to Covid-19.
But it can make fans realize that women or non-male athletes are not as low on the emergency depth chart list as one might imagine, if another running back, linebacker or tight end couldn't just kick for a team in a pinch.
While Fuller's demolition of the glass ceiling as it relates to playing football at the highest collegiate level occurred last weekend, this is not the first time a female has competed in a men's college football game.
Back in 2003, Katie Hnida became the first woman to score points in an NCAA Division I-A game, by converting two extra point attempts against Texas State for the New Mexico Lobos of the Mountain West Conference. In addition to being a worthy kicker, she also took pride in being a part of the team, and participating in drills that all of her male teammates were doing.
Six years earlier, Liz Heaston of Willamette University had the distinction of being the first woman to appear in a college football game, and the first to score points.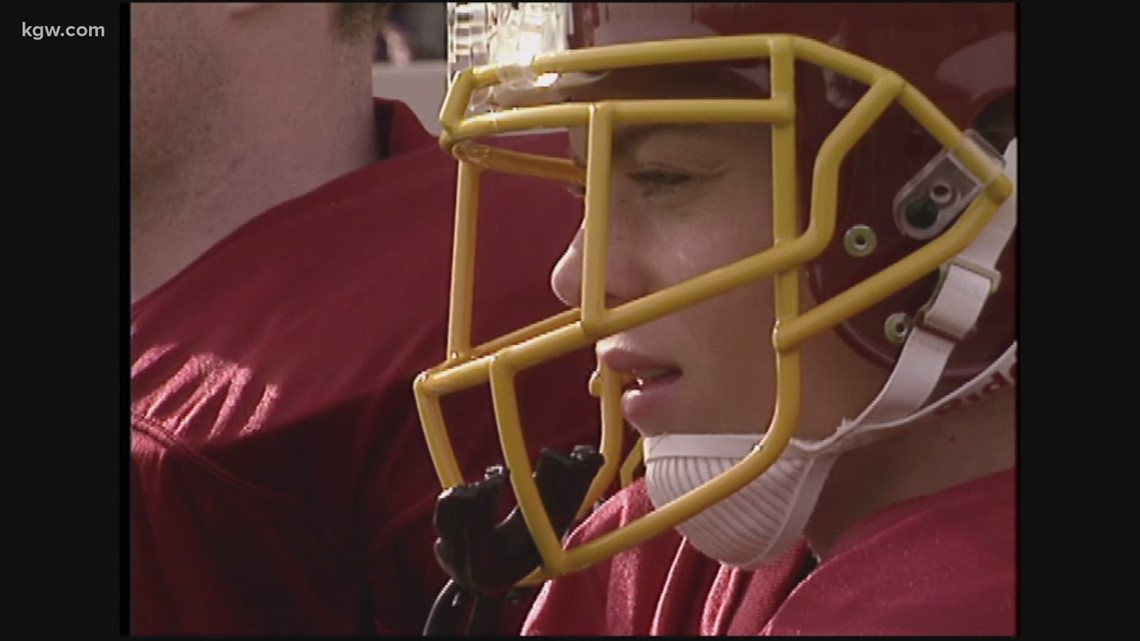 She knocked through two extra points against Linfield College in 1997. Heaston had a similar athletic background to Fuller, also starring on the university soccer team before being asked to kick for the men's football team.
Much more recently, a young lady from Detroit made history by receiving what was believed to be the first football scholarship for a woman who was not a kicker.
Antoinette Harris, who goes by "Toni", is currently a scholarship defensive back for Central Methodist University in Missouri, after having spent the first two years of her career playing for East Los Angeles College. Harris's journey has gotten a lot of attention from the media, including being featured in a Super Bowl commercial.
Harris' opportunity to play football on a scholarship with the Central Methodist University Eagles does seem to expand the horizons of amateur athletes everywhere who might want to play a sport that is traditionally reserved for another gender.
On the scholarship page of CMU's website, the institution lists several sports and extracurricular disciplines that are eligible for "participatory scholarships", and does not appear to include any gender specific requirements or qualifications for sports where the school only has a male team.
The main stipulation for the scholarship is that the student athlete (in the case of sports scholarships) must tryout/interview with an athletic director or coach to be considered.
In reviewing the scholarship guidelines on the NCAA website and other sources, it does not appear that schools make a specific distinction that scholarships for male sports programs can only be offered to men. This leaves the door open for supremely talented female athletes to receive athletic scholarships on traditionally male athletic teams, and while probably not as common, for the reverse situation to happen as well.
One reason why the scholarship requirements might be written to allow for as much latitude as they do could be the effect of Title IX law in the United States.
Title IX was put into place in 1972, and forbids educational institutions who receive federal funds(which are the vast majority of schools), from discriminating against students or faculty based on gender. The NCAA has a frequently asked questions section devoted to how Title IX affects athletics—here is an excerpt from the site addressing how it is meant to be applied:
Athletics programs are considered educational programs and activities. There are three basic parts of Title IX as it applies to athletics:
1. Participation: Title IX requires that women and men be provided equitable opportunities to participate in sports. Title IX does not require institutions to offer identical sports but an equal opportunity to play;
2. Scholarships: Title IX requires that female and male student-athletes receive athletics scholarship dollars proportional to their participation; and
3. Other benefits: Title IX requires the equal treatment of female and male student-athletes in the provisions of: (a) equipment and supplies; (b) scheduling of games and practice times; (c) travel and daily allowance/per diem; (d) access to tutoring; (e) coaching, (f) locker rooms, practice and competitive facilities; (g) medical and training facilities and services; (h) housing and dining facilities and services; (i) publicity and promotions; (j) support services and (k) recruitment of student-athletes
The first application of Title IX can be interpreted as good news for athletes of all genders, since that lends itself to the notion that athletic programs are obligated to at least provide opportunities for athletes to showcase their skills.
If a woman wanted to play football on a men's team, and could reasonably help the team in a more impactful way than a male counterpart in any facet of the game, and there was no option for her to play on a women's football team at the school, then this suggests that a school would be obligated to at least provide the female athlete with a tryout.
The ultimate decision of whether to offer the athlete a scholarship or a spot on the team would still ultimately rest with the coaches and athletic directors, but that decision, by law, cannot be made for gender-related reasons—it would have to be based on the athletic and academic merits of the athlete.
Additionally, reviewing section 3 of the above excerpt from the NCAA website can also be viewed as positive news in this scenario. It can be interpreted that if a female is selected to play on a men's football team, whether on scholarship or not, they will be permitted to receive the same educational, nutritional, and physical perks the men do.
Moreover, subsection (j) of that paragraph also references support services—while that's a general term, if that includes counseling or a sports psychology options, it would be tremendously beneficial to a female player to have someone to talk to while being the minority on an otherwise all male roster.
If Fuller, Heaston, Harris and other women have proven anything, it's that technicalities and bylaws are just words on a page. If the talent and hunger to push oneself out of their comfort zone and break the mold, institutions and society as a whole will have no choice but to listen.
"I try to speak to girls and try to keep them motivated in playing the game.  No matter what, keep your head held high. Do not let anybody tell you this, that, and the other things. Don't let anyone kill your dream," Harris said.